︎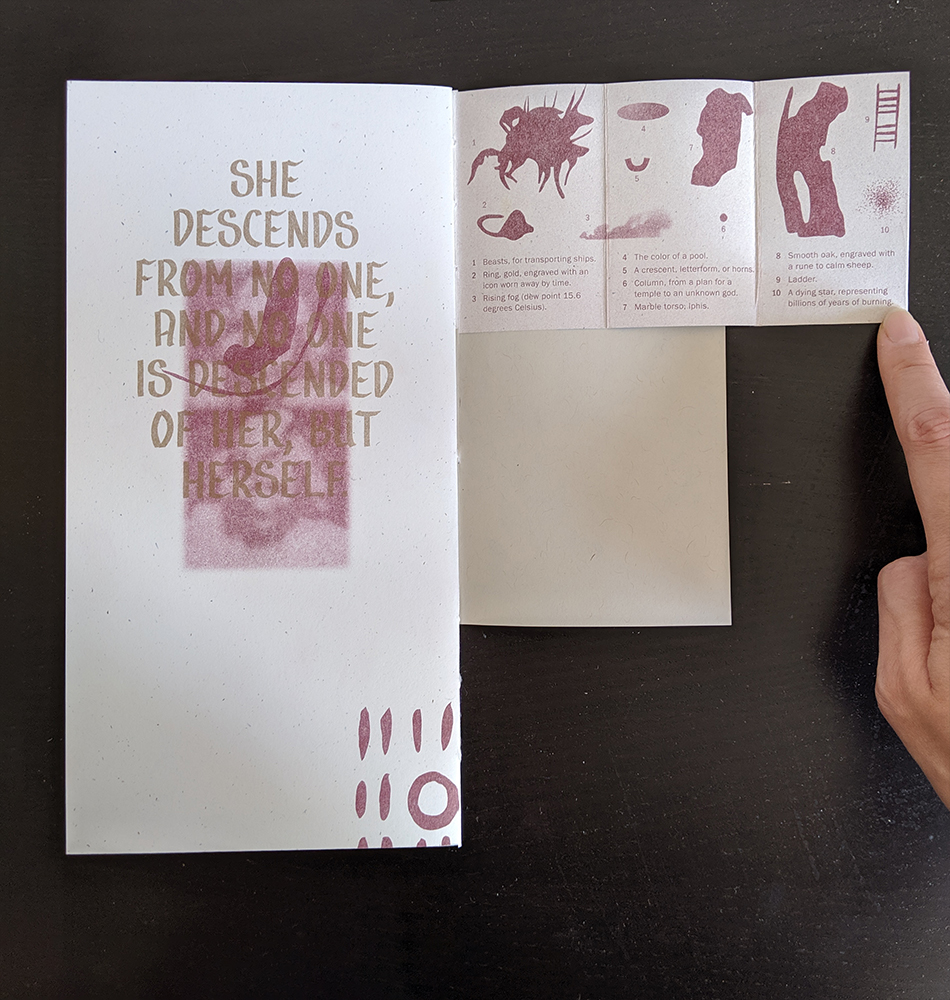 Enchiridion

36 pages, saddle-stitch binding and accordion fold, risograph and xerox, 5 x 10.25 inches
A multifaceted exploration of the language of worship, the mythologizing effect of fame, and the trickster-god powers of Cate Blanchett. In four parts—lexicon, cosmogenesis, epiphany, and artifacts—its amalgam of manipulated and original imagery, tropes related to divinity, and motifs repeating across multiple narratives imagines Blanchett as a figure between reality and infinite possibility.
Finalist for the Broken Pencil Awards.
book/mark I: A Name

12 pages, saddle-stitch binding, risograph printed, 2 x 7 inches
First in an on-going series of bookmark-shaped books, each on seemingly aimless, but unshakeable, thoughts. A Name is a brief, personal reflection on what it might mean to make a person. With images that allude to Greek mythology, Penelope, "the name without a girl," stands in for a latent wish to have a daughter.

book/mark II: Wendr

12 pages, saddle-stitch binding, risograph printed, 2 x 7 inches
Second in the series, Wendr is a spell, cast on me by a stick I saw on the ground. I've never been able to forget it. Meanwhile, somewhere, a witch wanders, wandless.
book/mark III: 6 Wings

12 pages, accordion fold, reduction woodcut print on paper, glue, 2022, 2 x 7 inches
Third in the series, 6 Wings reimagines the mythological multi-limbed, winged Geryon, whom Hercules murdered for his red cows. Few depictions of Geryon have survived antiquity; making this book, a reduction woodcut print with collaged covers, involved destroying the print matrix and parts of the prints. The book embraces Geryon's unknowable form, to unwrite his fate.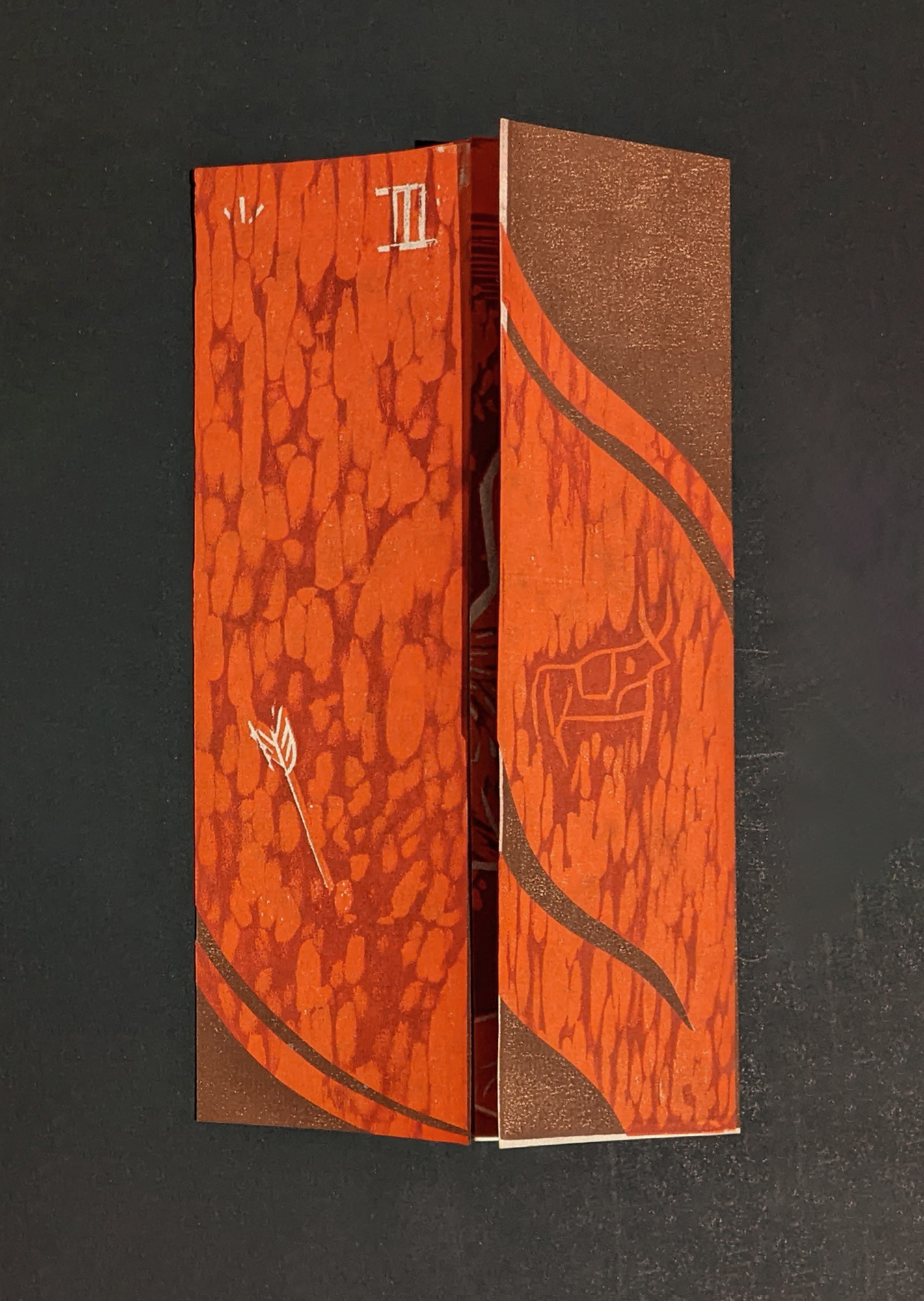 The Word Sm*t
40 pages, staple-bound, xerox, 4.25 x 5.5 inches
"Eroticism is, above all else, exclusively human: it is sexuality socialized and transfigured by the imagination and the will of human beings. In every erotic encounter there is an invisible and ever-active participant: imagination, desire. Octavio Paz

Brief descriptions of random Tumblr posts after the platform's ban on adult content and of Google search results for kinky images are imposed on a grid sparsely populated with vague fleshy drawings. The result feels out the extent to which erotica is a work of the mind, gesturing toward the role of withholding in desire.

Endless Distances
28 pages, staple-bound, 1st edition offset, 2nd edition risograph, with offset cover, 4.25 x 2 inches

"Longing, we say, because desire is full of endless distances. I must have been the same to her.
Robert Hass
Three women in different worlds tell themselves stories about the ones they love. Is it a futile practice in the face of obstacles between them and love? The book's panoramic shape frames distances physical, emotional, and temporal.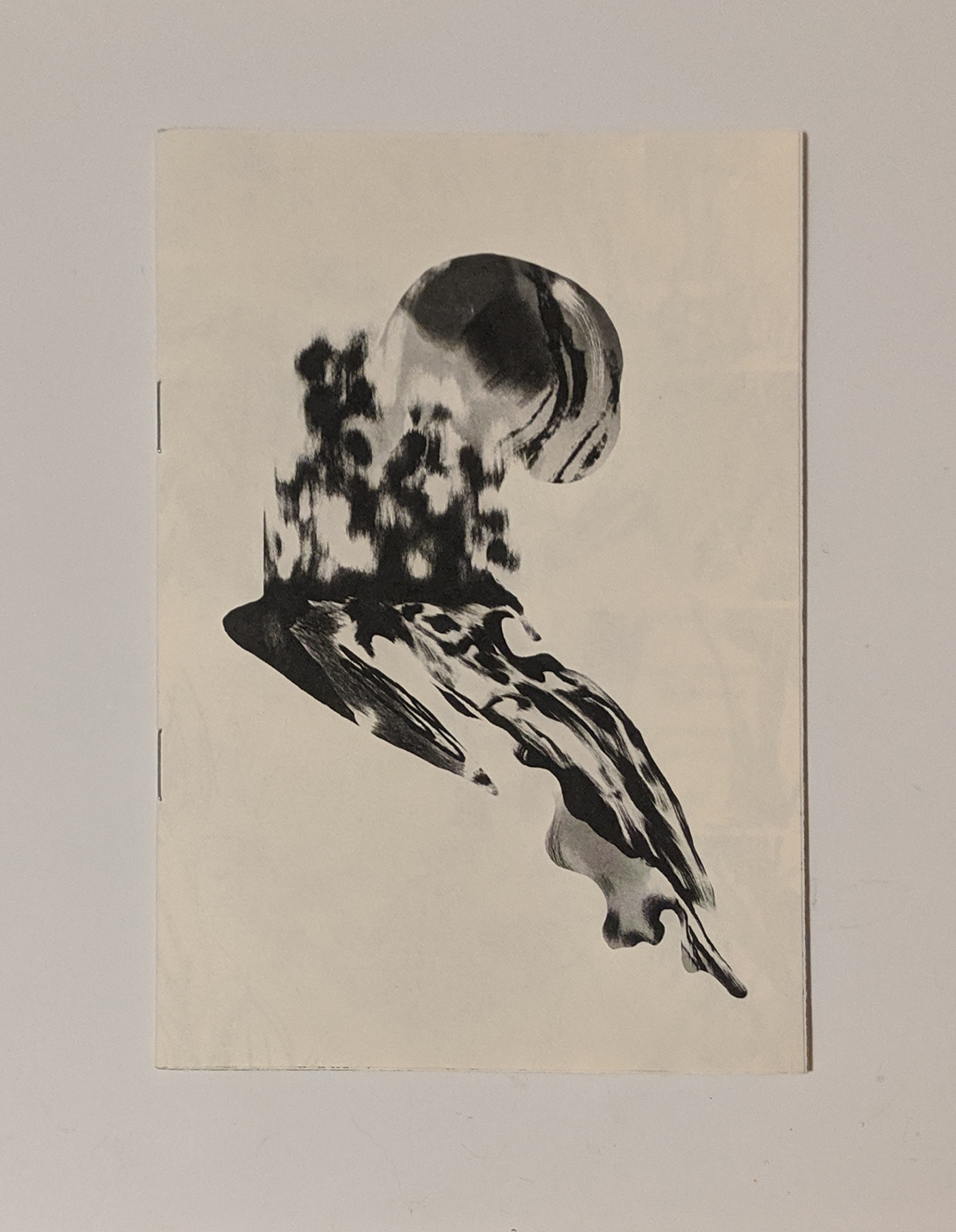 Between Us

12 pages, staple-bound, xerox, 4.5 x 6.5 inches
When two share a vision, how do they know they see the same thing? A strange occurrence will pull a couple closer together, or break them apart.

A version of this story appeared in the anthology Linequality.

Are You Even Listening?
20 pages, accordion fold, risograph printed, 2.75 x 3.25 inches
One asks the question, and we spiral into the other's ear in search of an answer.
birding—unbirding
12 pages, flutter book, offset with risograph cover, 3.25 x 6 inches
A woman's grief spills into her sense of self and way of life. Legible backwards and forwards, remembering and forgetting her grief are enacted by the direction of reading. The cycle transforms her again and again.
Butter Dust
16 pages, stab-stitch binding, offset on vellum, 3.5 x 4.25 inches
Dust floats in the rectangle of light falling through a window. Fifteen daydreams occur, shifting between abstraction, metaphor, and sensation.
Sigils of Trouble Sleeping

10 pages, one sheet folded, risograph, 2.75 x 5.25 inches
A list of troubles with sleep is paired with images of bed linens. These were the basis for sigil designs inscribed on the interior side.
Sigils are used in spell casting and are symbols of intention. These sigils are meant to ward off each source of trouble, paralleling the transitional natures of magic and sleep.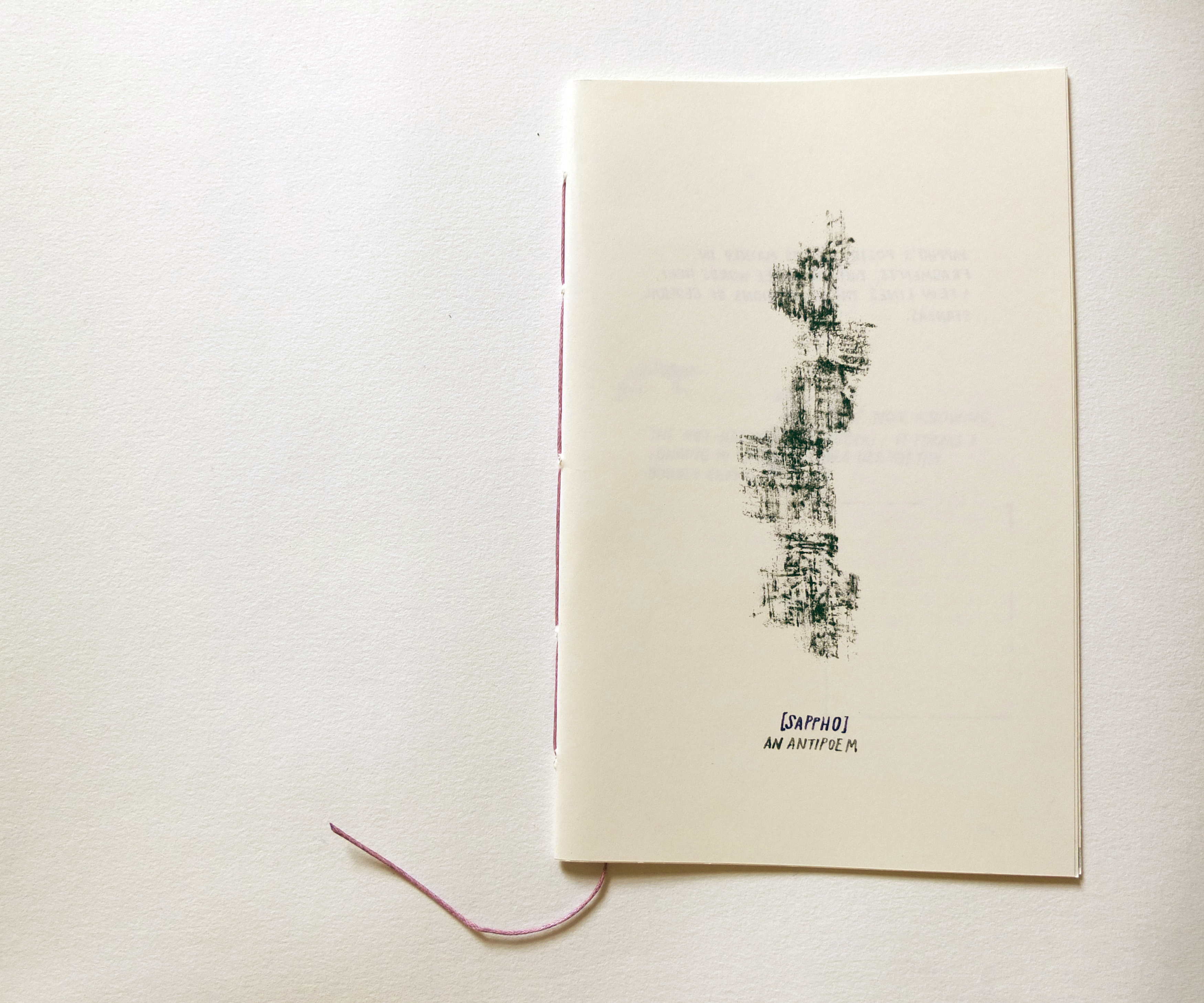 [Sappho]

28 pages, saddle-stitch binding, risograph, 5.25 x 8 inches, edition of 36
An essay comic about reading Anne Carson's translation of Sappho If not, winter and the visual presence of its lost fragments. Drawings translate spreads from Carson, with matching page numbers.
Inventory : Recollection

Saddle-stitch binding in hard case, accordion fold, laserjet, edition of 1
This two-part artist's book documents a man's life through his possessions. A folded list provides brief descriptions of items in his home and their history. A single-signature pamphlet shows unlabeled rubbings.
Collapsing the volume and values of objects, the book interrogates the significance of legacy and the marks a life makes on things, places, and people.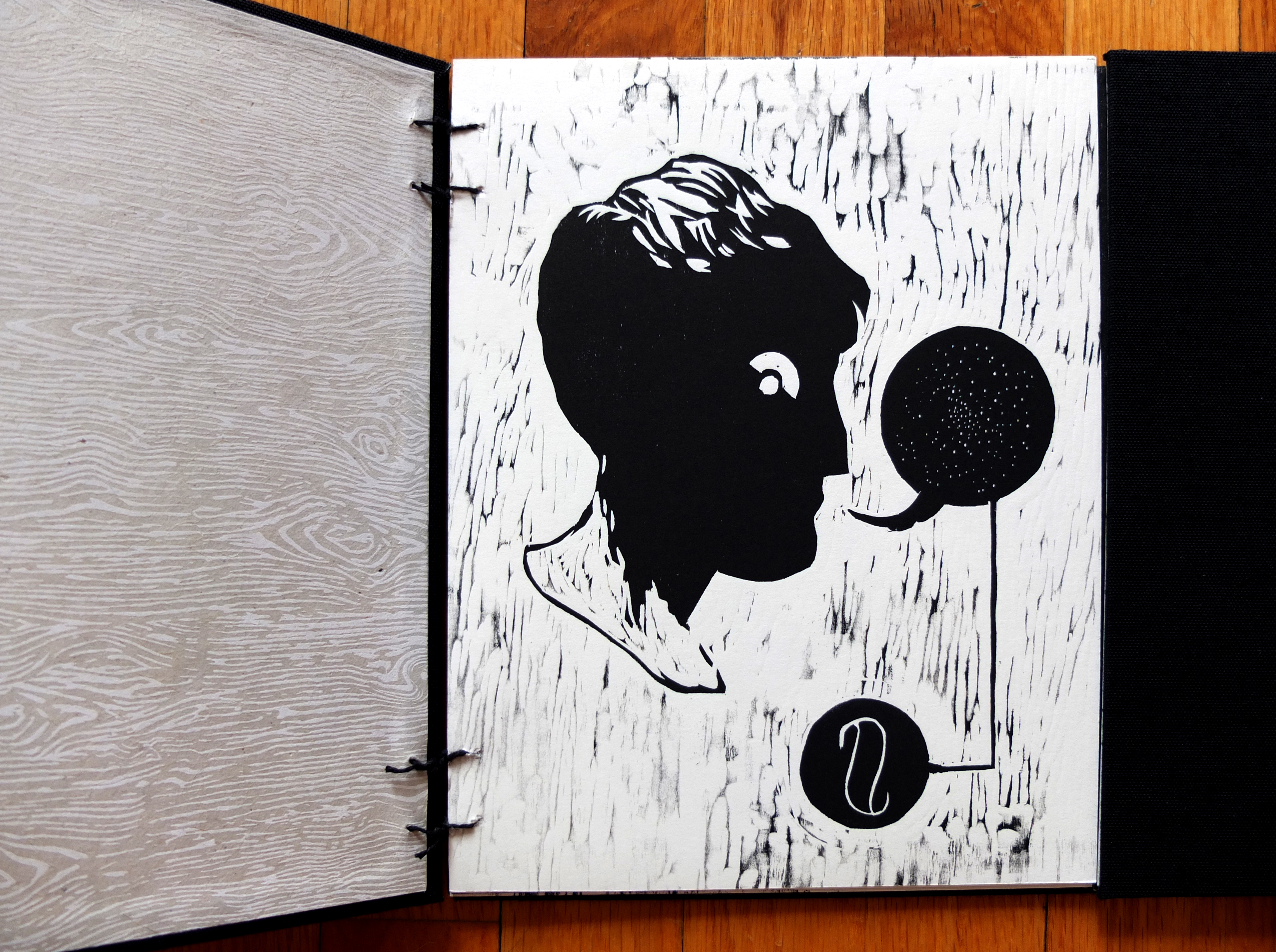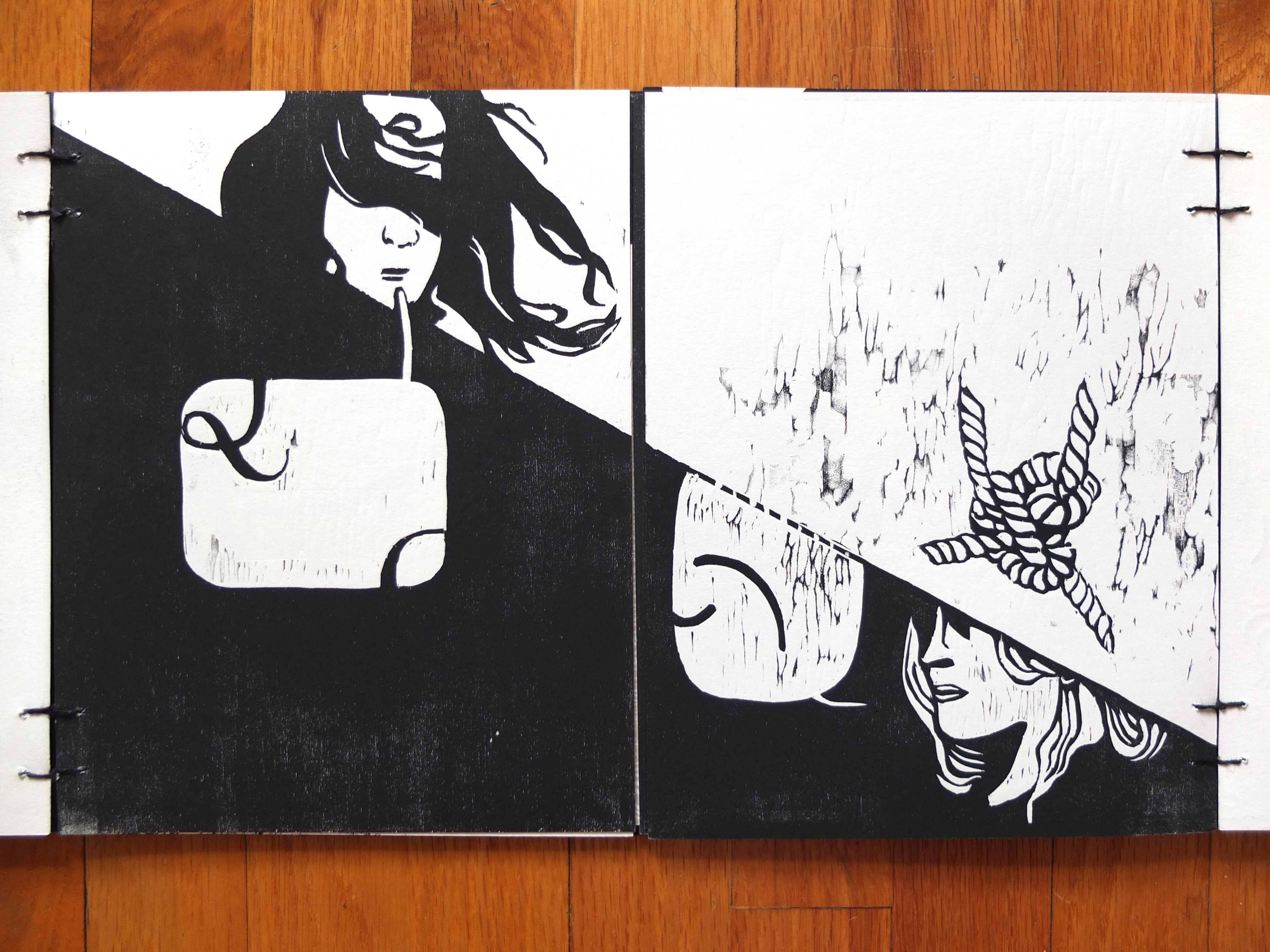 Chatter

10, coptic binding, woodcut relief, 16 x 10 inches, edition of 1
A gatefold book collecting ten woodcut prints in which "chatter," or texture. In turning the pages, various characters are placed in dialogue with each other. Conversations between them are composed and recomposed.
BOX Actaeon

Paper object, risograph
In Greek mythology, Actaeon was a noble hunter with a pack of loyal dogs. After hunting with friends, he wandered out alone and came across Diana, goddess of the hunt, bathing in a pool. Furious at being spied on, she transformed him into a stag. Fleeing back to his friends but unable to speak, Actaeon ends up torn apart by his own dogs.
Nested boxes house the myth. Readers piece together the story by turning the inner box while viewing images through successive openings. The structure echoes the act of peeking and of being trapped in a different body. It layers and segments the story, aligning reality and magic to shift images of transformation into view.
︎
Pakiramdam

Installation at Co-Prosperity (Chicago, IL), digital prints on organza and paper, acrylic paint, vinyl, wood, fishing wire
Photos by Colectivo Multipolar, courtesy of Co-Prosperity
Pakiramdam, a Tagalog word roughly meaning an intuitive or empathetic sensing of something or someone, explores how geographic and temporal distances can be collapsed by moments of recognition, a sense of kinship, or a memory. The project encodes my family's history of immigration and migration, the in-betweenness of mixed-race identity, and embodiments of hybridity along the way. It interrogates how we locate ourselves, not just within place and time, but in relation to others; what it means to be present to others in spite of physical absence or distance; and notions of authenticity and synthesis in relation to cultural and personal identities.

Like spirits, we come together, overlap, and drift past each other in the narrative spaces of the project, a space in Chicago and in the countries of our minds.


I'm calling from a great distance

The Annex, Spudnik Press Cooperative (Chicago, IL), screen prints, laserjet prints, and xerox transfers
Photos courtesy of Spudnik Press
A series of varied-edition screenprints and an artist's book relate the communications between a lighthouse keeper and an interplanetary explorer. A dive into wanderlust, solitude, and homesickness, the work uses the vastness of oceans and space to illuminate the smallness of humanity and the fragility of our bonds with each other.

The prints are divided into two sets. One is a sequence of a woman turning around in an increasingly figurative landscape. The other depicts planets and alien environments. The icons and gestures, which cross over between the prints and the book, become the intimate language of the characters', and the audience's, shared experiences. The solo exhibition culminated my work in the Spudnik Press Artist Residency.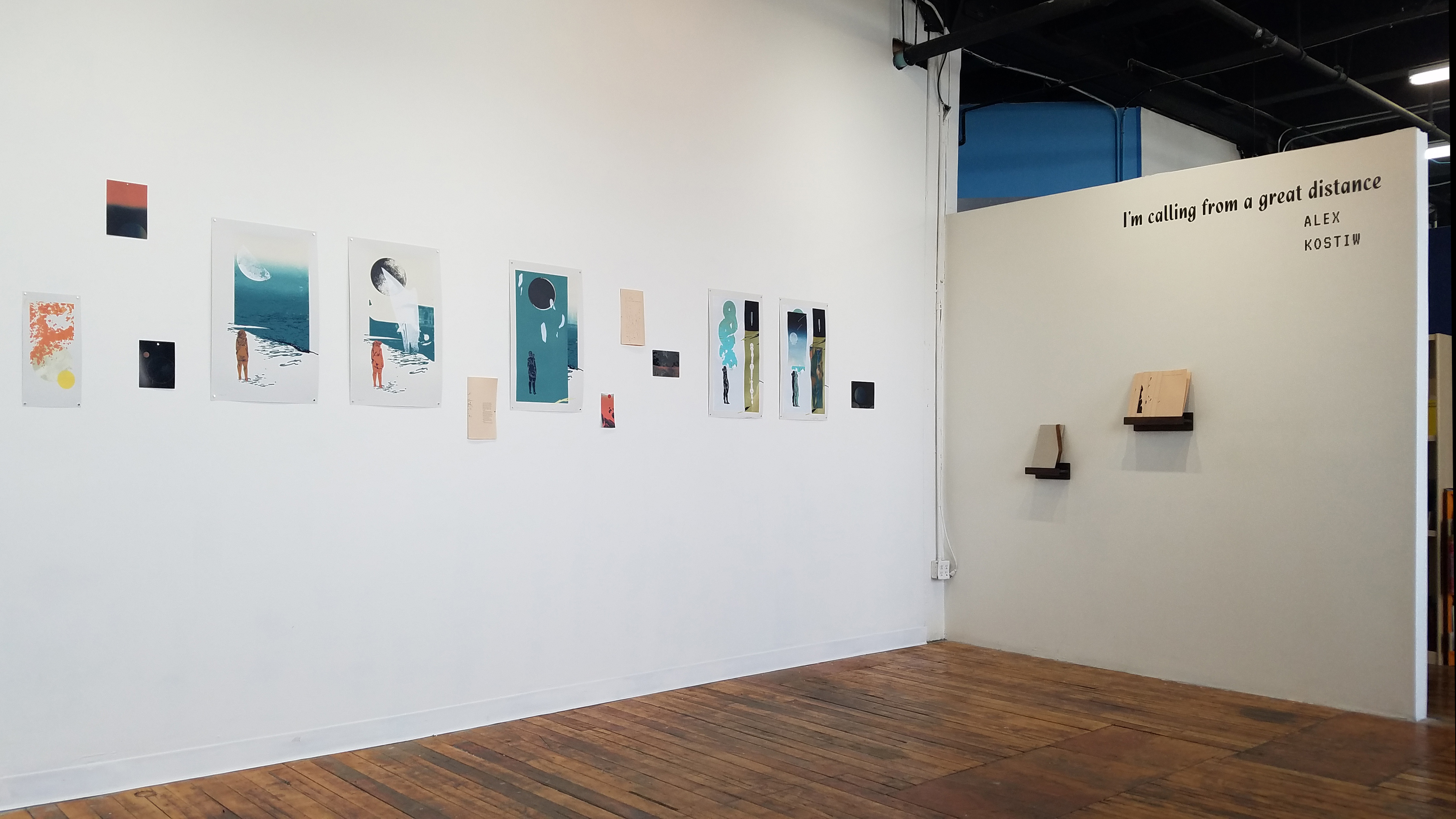 Kitchen Table Stories

Curated by Melissa Raman Molitor
Evanston Art Center (Evanston, IL)
"The Kitchen Table Stories exhibition is a celebration of stories shared by local artists who identify as Asian, South Asian, and Pacific Islander. Artists were asked to share the stories that have been passed down to them from ancestors through family and friends, and create work that reflects ther own lived experiences. The result is an exploration of the intersections of immigration, citizenship, race, culture, social identity, multigenerational relationships, and family history. Melissa Raman Molitor, curator

This collection of woodcut prints, Salita, is a personal study of storytelling that nourishes us across generations, geographies, and cultures. The prints depict stories my grandfather told me at dinner when I was growing up—Filipino folktales mixed with his anecdotes—and how he told them—his gestures as he spoke and his words as I remember them. I ate his stories up, until they became part of me. And through these prints, I retell them, and they become part of you.
︎
Tenderly, a studio
︎ ALEX BELARDO KOSTIW
Alex is an artist,
graphic designer
, and educator in Chicago. Working in poetry comics, they frame the ambiguities in familiar experiences to make space for notions of reality to shift and a sense of something unknowable to slip in.
Blurring the line between artist's books and zines, Alex's work presents traces of a story with text that is gently enigmatic and images that teeter between being figurative and illegible. Alex interrogates what "knowing" means on an intimate level. They are most interested in how knowledge forms within our bodies through the interplay of physical interactions and intuition; what eludes being known and how; and interior ways that we evade, reframe, or act on different kinds of knowledge. Their explorations include myth-making, in-betweenness, modes of inter/active reading, and books as installational projects.
Alex teaches design fundamentals and approaches to narrative in Visual Communication Design at the School of the Art Institute of Chicago. They are also the publishing arm of an art gallery and an independent designer focused on publications, visual identities, and illustrations that center historically marginalized voices in art and culture.
Alex holds an MFA in Visual Communication Design from SAIC and a BA in English Literature from the University of Chicago. They live with many reams of paper and two cats.
NOW / FUTURE
2023–24 HATCH Residency.
May 6–7, Seattle Artist Book Fair, Washington Hall, Seattle.
June 3–4, CAKE (Chicago Alternative Comics Expo), Broadway Armory, Chicago.
PAST
Boston Art Book Fair, Cartoon Crossroads Columbus, Chicago Art Book Fair, Independent Artist Book Fair, LA Art Book Fair (virtual), St. Louis Small Press Expo, Autoptic, CAKE, CALA, DiNK, MICE, TCAF, Zineland Terrace, Co-Prosperity (solo; group), The Annex at Spudnik Press (solo), Evanston Art Center (group), Carlow University Art Gallery (group), Tephra ICA (group), Chicago Design Museum (group presentation), In Cahoots Residency (2022), Spudnik Press Artist Residency (2016–17).
COLLECTIONS
Joan Flasch Artist's Book Collection at the School of the Art Institute of Chicago, Chicago Zine Collection at the University of Chicago Library, Zine and Comics Collection at the MassArt Library, Decker Library at MICA, National Museum of Women in the Arts, Pratt Institute Artist's Books Collection, RISD Artist's Books Collection, Haas Arts Library Special Collections at Yale University.